Amanah wants A-G to explain acquittal of NFCorp chairman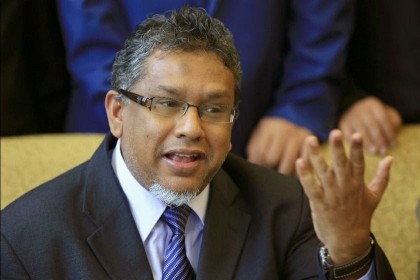 The attorney-general (A-G) must explain the acquittal of National Feedlot Corporation Sdn Bhd (NFCorp) chairman Datuk Seri Mohamad Salleh Ismail of two criminal breach of trust charges at the High Court yesterday, said Parti Amanah Negara (Amanah) MP Hanipa Maidin.
He said that reports revealed that initially, the deputy public prosecutor had applied for a discharge not amounting to an acquittal, but then succumbed to the application by defense counsel Tan Sri Muhammad Shafee Abdullah and agreed to an acquittal.
Hanipa, who is also a lawyer, said this meant that Salleh could not be charged under the same offence again.
"And by agreeing with the defence counsel, the prosecution cannot appeal.
"So we demand that the A-G explain why he withdrew the charge and agreed to an acquittal," Hanipa told reporters at the Parliament lobby today.
Mohamed Hatta Ramli (Amanah-Kuala Krai) said that he was hopeful that the A-G had another plan to charge Salleh.
"In the spirit of good intentions, I am hoping the A-G can come out to say that he has another plan to charge the NFCorp chairman for another offence," he added.
Salleh, 66, who is also the director of NFCorp, had allegedly channelled RM9,758,140 through four NFCorp cheques to partly pay for the purchase of two condominiums at the One Menerung complex in Kuala Lumpur.
He was accused of committing the offence at the CIMB Islamic Bank in Jalan Burhanuddin Helmi, Taman Tun Dr Ismail, between December 1 and December 4, 2009.
He was also accused of transferring RM40 million via a cheque to the National Meat & Livestock Corporation Sdn Bhd within the same period.
He also faced two alternative charges of using the funds prior to getting approval at the company's annual general meeting.
It was reported that session judge Norshahidah Awang allowed an application by Shafee that he be given a full acquittal in accordance with Section 254 of the Criminal Procedure Code.
This was despite DPP Syed Faisal Syed Amir earlier asking that Salleh be given a discharge not amounting to an acquittal in response to a representation letter sent to the Attorney General's Chambers in September.
The acquittal was then granted in chambers.
Earlier today, PKR secretary-general Rafizi Ramli said he suspected that Putrajaya's retrospective approval for the purchase of the condominiums could have been the reason why Salleh was granted the acquittal. – November 25, 2015.
Sumber: The Malaysian Insider